Interview
 As part of the herstoric celebrations of the centenary of Polish independence aiming primarily to restore the remembrance of native suffragettes who fought in the Polish independence movement at the turn of the 20th century for the establishment of full legal and social equality between men and women, hundreds of cultural, educational and political events are currently taking place across the country. One of them is HERSTORIADA, a series of Congress Meetings with Herstory in the form of a touring herstoric academy by the Women's Congress.
Gert Röhrborn speaks with originator and executor of the HERSTORIADA project, doctor of humanities, green politician, feminist activist and native of Silesia, Małgorzata Tkacz-Janik.
Doctor, you have toured with a series of lectures and spontaneous meetings in towns such as Wąchock, Otwock, Wąbrzeźno, Łomża, Żarnowiec, Zakopane, Bytom, Gdańsk, Gniezno and Brenna, constantly seeking traces of the activities of these heroines of an independent Poland. What was the project about?
MTJ: As a project, Herstoriada aims to create an original herstoric map and a mini-canon of knowledge about the history of Polish women. Fundamentally, the project is indicating places that are almost unknown in the herstoric context, while at the same time building a less-than-obvious map of events of importance from the perspective of women's history in Poland from the November uprising to 1918.
The project is divided into two stages and includes events at local sites of herstoric importance (lectures/meetings/street actions), while an exhibition and a publication are planned for the second part, and will be based on materials collected during stage one of the project. Something special lies behind every topic. Exceptional events and specific heroines, champions of Polish herstory. Selected places, themes and heroines intertwine in a fascinating story – one that is little known, is missing from historical narratives or is simply poorly treated.
Is the heritage of that time also felt in these places today?
MTJ: Yes and no. Let me give you two examples. I started my journey through time at around the November Uprising (1830–31) and the January Uprising (1863–64) – I visit Wąchock, whose Cistercian Monastery hides not only the black mourning dresses of patriots from a century ago, but also utterly unique modest, black, revolutionary jewellery. To me, the historical and symbolic point of reference for this first trip is Emilia Sczaniecka (1804–1896), a Samaritan of three uprisings, who apparently did not come out of mourning for Poland for 66 years. There are several schools named after her in the country, a park, an avenue and a memorial stone to the memory of the insurgents, including Emilia, but the remembrance of the "Black Dresses" in school education died with my generation. And yet this is entirely an example of patriotism to match an act of arms. For such acts of mourning, Polish women were punished with fines, imprisonment and even exile. Who knows about this?
And the second example, imagine the world of the turn of the 20th century. Many women became national activists then, but are they known today? Are they valued? In Polish, the female words for "activist" or "strongwoman" [działaczka, siłaczka] still have a derogatory connotation to this day. I am touring the Kujawy-Pomerania Voivodeship: Wąbrzeźno – Feliksowo – Srebrniki, and again I encounter herstory, which for now I am calling "the herstory of firsts", i.e. a woman doing something for the first time in the political dimension. The fact remains that this is the aspect that interests me most.
Srebrniki is the birthplace of Janina Antonina Omańkowska, the first woman in the history of Europe (and maybe the world) to have opened sessions of a regional parliament, in Katowice in October 1922.
Heart a-tremble, I knock at the door of a tiny parish priest and I say by way of introduction that I am looking for the remarkable woman who was born here in Srebrniki. The parish priest nods knowingly, and says, "Ah, that actress?" "No," I say, "the MP and Senior Marshal." The priest knows nothing of her.
You also carried out similar activities that were very well received by the audience during the Women's Congress and on the set of the Marta Dzido and Piotr Śliwowski film "Strongwomen", which will be out on the big screen any moment. 
Siłaczki - I zwiastun filmu - emotikonfilm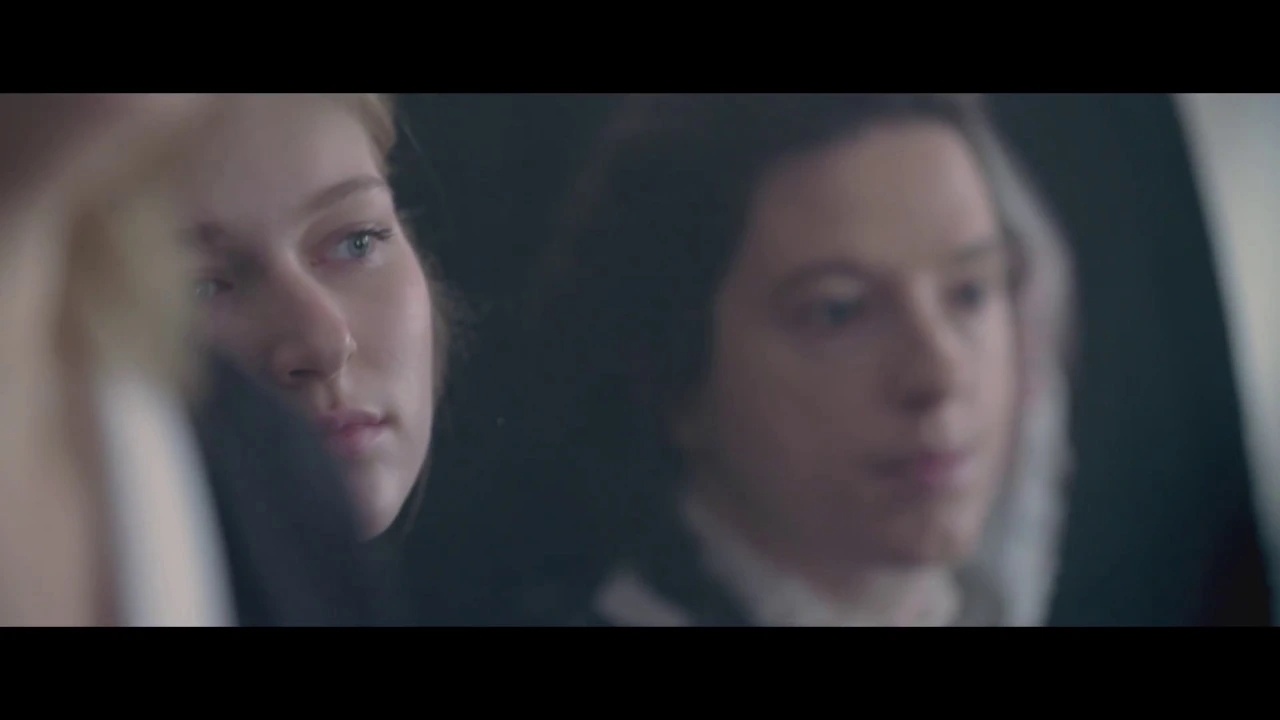 Watch on YouTube
But what was the reaction on the streets of provincial Poland to your energetic performances in his-, sorry, herstoric dress?
MTJ: Excellent. Outfits and period pieces are in fashion today, but there's even more interest in the stories. It turns out that the appeal of "history in skirts" is huge, that there is a genuine lack of such messages, descriptions, images and information, and maybe even something like the Polish version of the Berlin archive Archiv der deutsche Frauenbewegung (AddF) in Berlin. I envy the Germans that archive.
One thing is certain for me after these ten meetings. We need to support grassroots organisations and activists so that the history of women will become more powerful and more recognisable and valued across Poland. The idea is simple – for herstory to become part of the canon of taught history in Poland.
Despite first impressions, my tour is also organised in a linear, storytelling order – the very one we find in Polish schools. However, Herstoriada tells a somewhat different, but parallel history of Poland. And I am against separating history from herstory – we have never lived separately as women and men – the canon ought to include everyone, and respect various activities. Poland's is a shared history, but the fact is that the story of the fate of Polish women needs to be restored, revitalised, rebuilt and vigorously supported by experts – male and female – from many fields, not only from history but, for example, from the philosophy of ideas or gender studies.
Once again, in this year's local government elections, a record number of women ran, and there is increasing talk on the local level about the extreme disproportions in the naming of streets. Do you see a close connection here with herstoric activities?
Of course. Local action to commemorate women in the names of streets, squares and avenues is almost a cornerstone of herstoric good practice. In the Centenary of Women's Rights, this process intensified, but we also need to take this opportunity to praise and pay attention to the long years of efforts in this area in several places in Poland. Worthy of particular attention are trails, walking tours and the project's community-driven archives in Kraków (the oldest!), Łódź, the Tri-City, Lublin and Upper Silesia (Bytom, Katowice, Gliwice, Tychy, Sosnowiec, Rybnik, Świętochłowice, Ruda Śląska) and Śląsk Cieszyński, but also all the herstoric initiatives in Warsaw, Poznań, Wrocław, Otwock – which we mentioned before – and Milanówek, or those that are slowly burgeoning (thanks, among others, to the activities of the Regional Plenipotentiaries of the Women's Congress) in Białystok, Rzeszów and other cities.
We are talking in a very special time: we are not only celebrating the 100th anniversary of Poland's independence, but also the renewal of Polish women's fight for social recognition and personal freedom. In this context, is there such a thing as a patriotism particular to Polish women, and if so, how do you think it differs from that of Polish society in general?
In my opinion, the bloody patriotism of Polish women is pushed aside by the patriarchy to be forgotten, along with the historical work of Polish women in general. What do I mean? Even the fact that our "patriotic successes" consist primarily of a list of military acts, armed actions. The sufferings of the soldier, the insurgent, are valued more highly than the daily struggles and frequent tragedies of the Polish Mother who lost her husband, her sons, her brothers. We speak too little of past and present Polish traumas. Women hold on to them differently than men do, and they are filled to the brim because – and I think I can outline this in shorthand – for the last two centuries they have been being filled up, like vessels for storing Polish male-centric pain, suffering and damage.
Through a different, herstoric lens, you can beautifully strip Polish patriotism of the pathos, not to weaken it, but to strengthen it, to embody it, at least in the figures of the flesh-and-blood strongwomen who have given us not only deputies of the Legislative Sejm, but above all, the goals they strive for, such as the fight against alcoholism, against illiteracy, against poverty, and against violence against women, young people and children. They have dealt with it before in the field, in the Legislative Sejm they wanted to turn it into a law that was friendly to women and to society. It does not surprise me at all that the first female MPs had such an agenda; it was that "collective wisdom of women", all the strongwomen put together, the experience of daily work, drudgery, sweat, blood and tears transformed into political work.
These are the mothers – who are ritually worshipped still today. In the collective memory they are mothers posed in a lamentation – insurgent sons cradled, dying, in the arms of mothers, wives and sisters. They are Polish women, still like fortresses, hiding children and the weak from the enemy behind their delicate feminine bodies – these Grottgerian imaginings and allegories that have filled Poland's symbolic memory and filled it with victims – not heroines – of Polish independence. Surely this is not what we expect as a woman on the threshold of the third millennium.
We have to step out of this little picture as soon as we can. Yes, this "little picture". To create paintings for our great-grandmothers – canvasses, and not small pictures like a little prayer book. We need large-format descriptions for Mothers of Independence – they earned it. After all, not only Polish women, but also German women, British women, Austrian women, can be proud of their predecessors, the Mothers of European Independence and modern democracy.
To finish – what do you want for yourself and all of us for the next century?
MTJ: A historical canon at various levels of education and regional education that includes the history (herstory) of women. Secondly, parity on woman-headed electoral lists with women occupying all the odd-numbered positions. And thirdly, guys who choose feminism as an intriguing and important source of knowledge about the world, and women who undertake to be free, full-fledged citizens, and take on the accordant responsibility in terms of finance, upkeep, love and sex. I also want an end to violence and for every woman and every man to find happiness in good relationships, for their children or the children they raise not to inherit any traumas (including Polish ones), and that they would create a future with good politics and a great society.
 
Photo gallery:
[gallery]
The HERSTORIADA project, a series of Congressional Meetings with Herstoria, was created in cooperation with ODHIR, the Heinrich Böll Foundation and the Women's Congress Association. About 550 people aged 15–86 participated in lectures and project meetings across Poland, including about 15% men.